At Rejoice Hair Transplant Clinic, we always strive to bring the latest hair transplant techniques. Our Founder, Dr. Shankar Sawant, is an expert hair transplant surgeon in Mumbai. He has 20+ years of experience and has performed 2000+ hair transplants. With extensive in-house research, Dr. Shankar Sawant pioneered the Non-shave FUE hair transplant.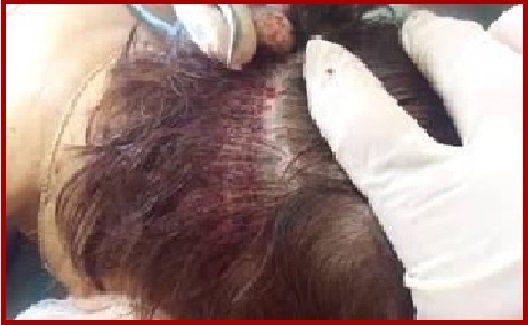 Apart from unmatched precision and shorter recovery times, one of the many benefits of regular FUE over older hair transplant methods was that it caused minimal scarring, eliminating visible signs that a patient used to get after a hair transplant.
Now, FUE has taken another leap forward, making it even more difficult to identify that a hair transplant is done. While still delivering outstanding results: No-shave FUE Hair Transplant.
Please continue reading to know about Non-shave FUE, its cost, procedure, advantages, and more.
What is non-shave FUE?
Non-Shave-FUE or no-shave-FUE is a Rejoice proprietary technique. We are the first hair restoration clinic in India to offer this type of technique. In this hair transplant technique, there's no need to shave the donor or recipient area.
This technique is a dream come true for people who have a tight schedule. This technique takes advantage of direct-FUE and generic FUE. As with other transplant techniques, there are no side effects.
If you have a type of career where you can't have your head shaved, ns-FUE is the way to go. You can have many sessions for desired results.
Who is an ideal candidate for non-shave FUE?
Non-shave FUE hair transplant is suitable for both men and women who want their hair transplant to be undetectable and need to resume normal activities as soon as possible.
What is the cost of non-shave FUE in Mumbai?
The exact cost of a Non-shave FUE hair transplant in Mumbai varies with each person depending on the extent and cause of baldness. The cost of non-shave FUE in Mumbai also depends on some other factors such as the number of grafts required, severity of hair loss, expertise, and affiliation of the surgeon.
At Rejoice, we offer affordable hair transplant cost in Mumbai with high-quality and advanced hair restoration procedures.
How is non-shave FUE performed?
Here's a closer look at how a Non-shave FUE hair transplant is carried out:
The surgeon removes one by one hair from the donor region, usually back or sides of the scalp, just as in the conventional FUE method.
However, the procedure is much more delicate. It takes a great deal of expertise on your surgeon's part to identify the healthiest hairs to ensure proper implantation.
The surgeon cuts the hair strands after the extraction of hair, leaving only the inserted root.
As with the standard FUE procedure, there will be some slight redness post-procedure.
However, after the redness has subsided, the current longer hair will effectively conceal any signs of a hair transplant.
What to expect after non-shave FUE?
After the Non-shave FUE, patients may notice that hair starts shedding from the treated site. It is a natural healing process.
Hair will fall out, but the follicles remain intact, and new hair will grow eventually.
Around three months after the transplant, most of our patients experience the first signs of new hair growth.
Patients should expect their hair to grow to about a quarter of an inch four months after the procedure.
What are the advantages of non-shave FUE?
No linear scar
No cuts or stitches
Minimal recovery period
There is a low risk of infection in the donor or recipient areas.
Grafts may be taken from the beard, the arms, the legs, and the chest.
What are the side effects of non-shave FUE?
The first night after the transplant, bleeding at the transplant site is possible.
Swelling of the forehead or face is possible after the transplant. But it is usually minor and goes away within seven days.
Numbness in the scalp and back of the neck is possible.
It is a complicated procedure, and only experienced surgeons with adequate skill can perform it the best.
Since the maximum number of graft transplantation is less, the density is lower as well.
It takes a longer time than other hair transplant procedures.
What precautions should you take while opting for non-shave FUE?
Before Transplant:
Stop taking medicines, vitamins, and supplements that cause blood coagulation two weeks to one month before treatment.
One week before treatment, refrain from consuming alcoholic drinks.
Inform your doctor about the food or drug allergies you have before the transplant.
You should avoid pickled foods, heavily flavoured foods, tea, coffee, and foods that induce heartburn or diarrhoea.
After Transplant:
Avoid wiping, picking, or scratching the transplant site.
Apply a cold pack to the forehead in case of swelling, and stop touching the transplant site.
Rest on the back with your head raised high for the first week after the transplant to avoid laying on the newly transplanted hair.
For one month, refrain from any perspiration-inducing activities.
For one month, avoid saunas and excessive heat.
Use room-temperature water to shampoo and wash your face.
Don't take flights within 48 hours of the transplant.
Why choose Rejoice for non-shave FUE in Mumbai?
Rejoice is a pioneer of the Non-shave-FUE technique in India.
We ensure a higher success rate with a dedicated team of experts with more than 20+ years of experience.
We can assure you that our follicular transection rate is very low – less than 3% every time.
A graft spends very little time outside the body, maintaining its survival rate.
We can guarantee you that the extraction will be completed rapidly and safely because you will be operating with highly qualified surgeons.
Our support staff is well-versed in the techniques so that they can provide excellent assistance to the surgeons.
Our operating rooms are state-of-the-art and highly hygienic.
If you're planning for a hair transplant, then book an appointment with Dr. Shankar Sawant and avail of the most desirable and cost-efficient hair transplant in Mumbai.