Are you someone who wants a head full of hair? Did someone tell you that you do not have a good donor area or you just cannot undergo a hair transplant?
At Rejoice Hair Transplant, our surgeon Dr. Shankar Sawant is an expert hair transplant surgeon in Mumbai providing premium quality Bio-synthetic hair transplants at an affordable cost.
A Bio-Synthetic hair transplant is also known as an artificial hair transplant. It is a suitable hair transplant solution for men and women who are completely bald and not have sufficient donor area on the head or anywhere on their body.
A bio-synthetic hair transplant is the only suitable option for whom a natural hair transplant cannot give the desired result.
What exactly is a bio-synthetic hair transplant?
Bio-synthetic fiber, as the name suggests, is synthetic hair. They are manufactured in Italy and Japan. They come as a single follicle or as a triple follicle. They are basically fibers that look like natural hair strands. These fibers are implanted into the bald area for natural-looking hair results. Artificial hair is available in various colors and lengths. Bio-synthetic fibers or bio-fibers hair transplant is in great demand.
The procedure of bio-synthetic hair transplant
Our doctors always do a patch test of about a hundred follicles and observe for two weeks to see how the follicles behave. The patient is kept under observation and his body reactions are noted. Some tolerance tests are also conducted.
If the patient passes these tolerance tests then they can proceed with the artificial hair transplant.
So now let's understand what actually happens in this process.
First of all, our doctor will give anesthesia to the head.
After this, he will implant single artificial hair strands one by one on your scalp using an automatic hair implant device called an implanter pen. The implanter pen inserts the synthetic hair strand into the scalp. This process continues until the proper hair density is achieved.
After the implantation, our doctor will cleanse your scalp with disinfectant.
After the surgery, our doctor will prescribe antibiotics for a week to prevent any infections.
This is quite a simple procedure and in each session, around 500-1000 hair can be transplanted.
What are the precautions to be taken after the surgery?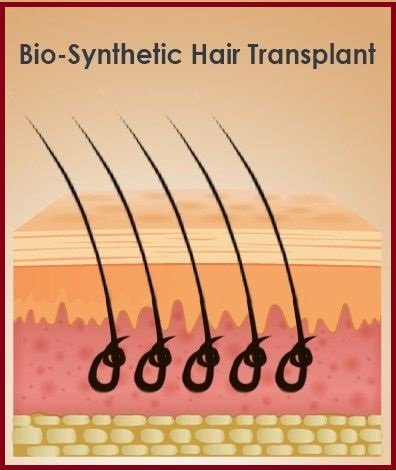 There is a rare chance of an allergic reaction to bio-synthetic hair fibers. You need to visit the doctor if it happens.
It is extremely important to understand that bio-synthetic fibers create a lot of sebum production. It is an oily secretion that comes out. Therefore, anti-dandruff shampoo is mandatory for two weeks after the transplant.
Everyday washing hair for two weeks after the procedure is mandatory.
Antibiotics and painkillers are prescribed for a few days.
Who is an ideal candidate?
People who do not have a good donor area or they have very thin hair or almost non-existent donor area.
People who do not want to use their own hair for transplant, they don't want any scar on the back of their head.
Women with reducing densities in their hair.
People who have had previous transplants with poor results.
If you have passed the patch test.
What are the advantages of a bio-synthetic hair transplant?
It is a simple, quick and painless procedure.
You can go home on the same day after the procedure and no one can tell that you have done a hair transplant.
You do not have to wait for the hair to grow as the hair length is already 10 to 15 centimeters long.
You can get a fuller hair density as per your expectations.
A phenomenal solution to those who do not have a good donor area.
One great advantage particularly for female hair transplant is that you can get any color of bio-synthetic fibers. You can even get longer lengths of bio-synthetic fibers.
What are the disadvantages of a bio-synthetic hair transplant?
It is very expensive to do a bio-synthetic fiber hair transplant and needs regular maintenance.
The longevity of bio-synthetics is less compared to a natural hair transplant.
Every year 20% of the hair will fall off. You need to visit the doctor every six months to one year and replace at least about 20% of the hair.
The transplanted hair generally does not last for more than five years. So, people who can afford them need to know that you need to get them replaced.
Continuous re-implants can lead to poor blood circulation. It can prevent the growth of hair and decrease the survival rate of the existing hair.
You cannot scratch your scalp as it can remove the artificial hair.
You will have to use special shampoos and hair products for maintaining your synthetic hair.
What is the cost of artificial/bio-synthetic hair implantation?
The bio-synthetic hair transplant cost varies depending upon many factors such as the health of your scalp and the number of fibers required for hair implantation. The price may range from Rs. 85 to Rs. 120 per hair strand.
We suggest you visit our clinic and get a consultation from our experienced team of doctors who will guide you properly on whether bio-synthetic is a suitable option for you or not. Our doctors are highly experienced in performing bio-synthetic hair transplants in Mumbai. We are transparent about the cost and there are no hidden costs associated.
At Rejoice Hair Transplant Centre, we have all the necessary types of machines and instruments along with clinical excellence to perform this treatment to give the best possible results.