Rejoice hair transplant clinic is one of the most famous and reliable clinics for a hair transplant in Mumbai. Dr. Shankar Sawant is one of the best hair transplant surgeons to provide direct FUE hair transplant treatment.
Our doctor has 20+ years of experience in providing hair transplants with success. He has gained fame from all around Mumbai by performing the most effective hair transplant treatment during his long career. To date, he has treated more than two thousand patients.
He has founded the Rejoice hair transplant clinic in Mumbai, where he provides the most effective treatments related to hair fall issues at an affordable cost.
At our clinic, we guarantee you a hundred percent satisfaction after availing of the treatment. We are comprised of highly skilled doctors and technicians at our clinic. Our modern tools and techniques are as per the international standard. So, avail the best direct FUE treatment at our clinic.
What is direct-FUE?
Follicular Unit Extraction is a new technique in the hair transplant world. If you want to use a refined method of FUE, it is extremely essential to choose the best technique for hair transplant in Mumbai. We at Rejoice name it as direct-FUE. In this technique, we pick and transplant individual follicular units, one-by-one. There's no time gap between the extraction and transplant. So we get an amazing 20–25% increase in growth rate.
Direct-FUE leaves no scars post-op. And there's minimal discomfort in the process. Anyone who can have bio-FUT is also eligible to have direct-FUE.
Do you like short hair? Or do more physical work? Go for direct-FUE.
What is the process for direct-FUE?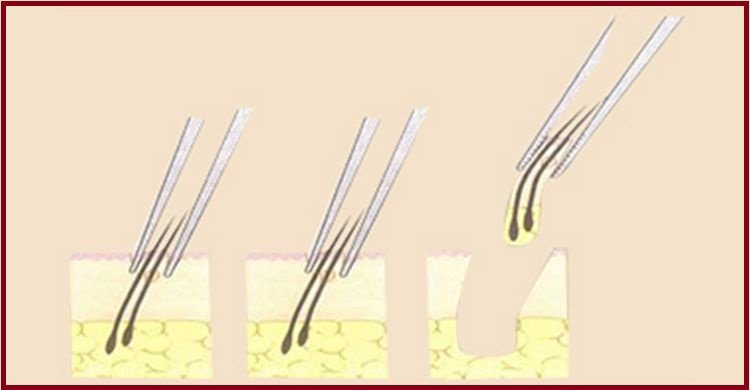 We make a small incision around a follicular unit using specialized medical equipment. After separating it from the tissue, we pick it up and place it on the recipient site. This is the basic difference between bio-FUT and direct-FUE. In Bio-FUT we take a strip and then cut it into follicular units. Here we are picking up individual follicular units straight from hair tissues. And this is what extraction means here.
As you can imagine, picking several thousand grafts one by one can take 3–4 hours. So this technique requires more time than bio-FUT.
Extracting follicular units from the donor area leaves tiny wounds behind. These tiny wounds sized about 1 mm heal within 8–10 days. These scars are so tiny that they are almost undetectable.
Never have direct-FUE performed by an inexperienced surgeon. You may get your precious hair follicles damaged. If you have decided to go the direct-FUE way, choose an experienced team. At Rejoice, our experienced hair transplant doctor performs direct-FUE with intensive care.
What are the pros and cons of Direct FUE?
If you don't like taking a whole strip from the donor area, you can have Direct-FUE. Though keep in mind, direct-FUE requires more donor area than bio-FUT.
There are many advantages to direct FUE. First, there are no scars and no medical stitching. Athletes and people who do more physical work can resume their work after 1 week. Also, there's minimal discomfort in the donor area post-op.
Things to know about direct-FUE
It requires more time than bio-FUT.
It is more expensive than bio-FUT.
You already know the reason for both. Our hair transplant surgeon in Mumbai Dr. Shankar Sawant, extracts and transplants every single hair follicle one by one. So, it requires more time, discipline, patience, and extra care. But when you consider its advantages, it's worth every single rupee you pay as compared to the general range of hair transplant cost.
Post-operative care for direct-FUE
After we complete the treatment, we hand you an instructional manual. In that, we've described everything about your post-op care. From shampooing your hair to a balanced diet, we suggest what we think is good for you.
Cost of direct FUE hair transplant at Rejoice
The cost of the direct FUE hair transplant treatment at Rejoice hair transplant clinic depends on your requirements. Generally, we charge Rs.20 for each graft to perform FUE hair transplant treatment. But remember that the treatment cost is subject to change according to your requirements and the number of grafts.
How long will it take to recover?
The treatment is very safe and minimally invasive. You do not even need to stay in the hospital for one night. On the second day, you will need to visit the clinic for dressing your treatment area. On the fourth day after the surgery, you can return to your work. After this, you may require to visit the clinic to clean the treated area. Remember to follow the right precautions after a direct-FUE hair transplant.