Do you dream of gorgeous hair, hair that shines, are denser, whose volume will not let you hear, and whose locks will give natural grace?
Visit our Rejoice Clinic to experience the best hair transplant in Mumbai through our advanced techniques. Grow thinning hair and strengthen the fineness of your hair with non-surgical Mesotherapy hair treatment in Mumbai.
Read on to know more about the Mesotherapy technique, its cost, side effects, and more.
Hair loss is one of the most common issues faced by everyone. It is normal to lose 30 to 50 hair strands daily. But sometimes the hair fall can be more and rapid, causing anxiety and concern. For such cases, Mesotherapy comes into the picture as it may help prevent hair fall, improve hair texture, and stimulate hair growth.
Mesotherapy for hair loss treatment at Rejoice Clinic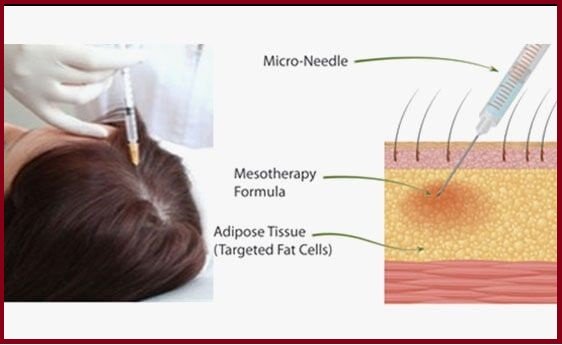 Hair mesotherapy is a cosmetic clinical treatment for restoring volume and luster to thinning hair.
Our mesotherapy expert injects a medicated solution into the scalp. This solution contains a combination of pharmaceutical agents, specific chemicals, vitamins, co-enzymes, and amino acids. The selection of the medication combination depends on the level of hair loss.
Mesotherapy acts on the skin, connective tissue, circulation, and the immune & neurosensory systems. In mesotherapy, there are principal/major and complementary/minor components.

The major components used are clinically proven and approved by the FDA; whereas, the minor components are known to improve the existing condition. An effective combination contains at least two to three major elements.
Moreover, this technique revolves around the principle that most hair loss problems occur due to hormone imbalance around the hair follicles, lack of specific nutrients, and reduced blood circulation to the scalp that can be restored by Mesotherapy.
Further, this encourages the growth of new and healthy hair strands. Both men and women can avail of this technique.
Besides, it helps improve several forms of alopecia such as androgenetic alopecia, alopecia areata, stress alopecia, and telogen effluvium.
The chief objective of mesotherapy is hair regrowth. And, also increase microcirculation in the scalp, slow down the shrinking of follicles, provide nutrients, and stimulate hair growth.
Benefits of Mesotherapy hair treatment
Mesotherapy is a non-surgical, painless, and faster treatment for hair regrowth.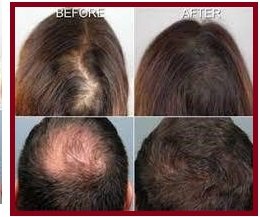 Moreover, it is a process of boosting the scalp with vitamins to improve blood flow for hair regrowth.
Mesotherapy is a US-FDA approved technique. It is more successful when compared with other products like hair regrowth tablets or surgery.
Also, it covers the bald areas and stimulates the follicles for hair regrowth.
Besides, it is a less time-consuming process. Depending on the level of hair thinning or baldness, it requires around 30 to 50 minutes for each session.
Mesotherapy helps decrease hair fall by inhibiting the secretion of the DHT hormone.
It helps hair follicles grow faster and survive longer as it activates the blood flow in your scalp.
For best results, you need only five to eight sessions of mesotherapy hair treatment.
How long one has to take the mesotherapy hair treatment at Rejoice Clinic?
The duration of the treatment depends on the individual and level of hair loss. Usually, you will need one or two sessions per week for approximately four months.
At Rejoice Hair Clinic, our Mesotherapy experts will determine the number of sessions required for your hair loss treatment and based on that provide you with the cost estimate and plan your sessions schedule accordingly.
Generally, you will be required to visit them for half an hour once a week for at least eight to nine weeks. The results are visible only after the fifth or sixth session. Once the hair growth is visible on the scalp, the time and frequency of mesotherapy can be spaced out. The client must be patient and calm during this treatment.
Side effects of mesotherapy hair loss treatment
Generally, mesotherapy hair treatment has minimal risks. If the treatment is performed by a trained and experienced hair expert, it is going to be a hassle-free procedure.
Some of the side effects reported include:
Pain
Itching
Sensitivity
Swelling
Nausea
Bruising
Dark patches on the treated skin
Rash
There is no recovery period as Mesotherapy is a non-surgical procedure. You can return to your routine activities right away. Some clients may need a day off due to pain and swelling at the injected spots.
Who cannot undergo mesotherapy for hair treatment?
Do not take mesotherapy hair treatment if you:
Are pregnant or lactating
Are on anticoagulants
Are allergic to any of the medications used in mesotherapy
Have diabetes, kidney, liver or cardiac disorder
Have an infection or abrasion in the affected area
Mesotherapy hair treatment may prevent the need for other expensive and painful surgeries. Yet, for best and rapid results, you should take a nutritional diet. And follow a routine fitness regimen as suggested by our hair expert.