Are you concerned about the white patches on your skin?

Do you need to get rid of the white spots?

If yes, then visit us at Rejoice Hair and Skin Clinic . At Rejoice, we have come up with safe and effective Vitiligo Treatment in Dadar, Mumbai.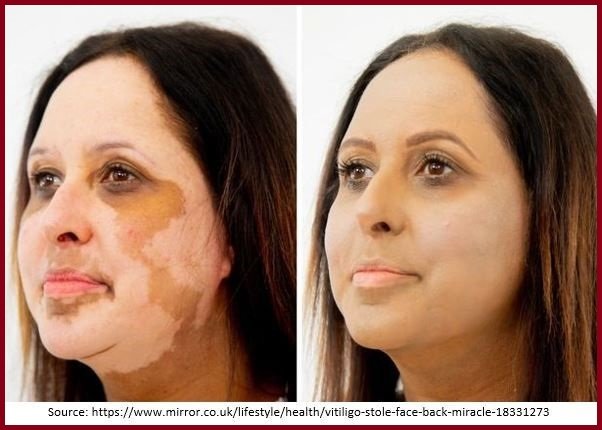 Dr. Shankar Sawant is the founder of Rejoice Clinic. He has 20+ years of experience in treating vitiligo patients. Hence, he is renowned as one of the best Vitiligo Specialist in Mumbai.
Vitiligo is a skin disease that includes the growth of white patches on the skin. It can affect any part of your body. Most patients with vitiligo have white patches in many areas of the body.
Why should you choose Rejoice Clinic for Vitiligo treatment?
Rejoice Clinic is a one-stop destination for premium and high-quality hair and skincare treatments in Mumbai.
We at Rejoice Hair Clinic will do our best to ensure that your cosmetic enhancement experience with us is as great as possible.
Dr. Shankar Sawant, our medical head, is a leading hair transplant surgeon in Dadar, Mumbai. Moreover, he is highly experienced and admired all over the world for his expertise as a dermatologist.
Dr. Sawant is adept in medical and surgical vitiligo treatment in Mumbai. He believes in offering personalized medicine based on a specific need, skin type, and medical condition. Thus, his patients recognize him as the best doctor for Vitiligo Treatment in Mumbai.
Under his management and guidance, Rejoice Center is counted as one of the best dermatology clinics in Dadar, Mumbai.
At Rejoice, we have handled more than 10,000 patients to date.
Our clinic has the most advanced equipment with the latest US FDA approved technology to achieve reliable and desired results.
What is Vitiligo?
Vitiligo is a pigmentation disease caused due to destruction of the melanocytes. These are the cells that form the pigment in the skin. As a result, white patches spread on the skin of various body parts. Sometimes the hair that grows on the areas affected by vitiligo becomes white.
What would be the Vitiligo Surgery Cost in Mumbai?
The Vitiligo surgery cost in Mumbai depends upon the type of surgical method done. As it may need multiple sessions, it can turn out to be a little costly as compared to other forms of treatment.
Vitiligo Treatment:
Vitiligo treatment takes longer to show the results. It usually must be continued for six to 18 months. The treatment depends on the extent of white patches, location, and type of method you prefer.
Every patient reacts uniquely to the treatment. Specific treatment may not work similarly to everyone. Advanced treatment options for vitiligo include medical, surgical, and adjunctive therapies.
Medical treatments:
Medications are available to restore skin tone or even out the color, though results vary and are unpredictable.
.
Surgical treatments:
They are suitable only for a particular group of patients who have vitiligo for at least three years:
Autologous skin grafts
It includes removing skin from one area of your body and grafting it to another body region.
Skin grafts using blisters
The doctor makes blisters on your pigmented skin by using heat, suction, or cold. The upper layers of the blisters are then removed out and transplanted to a depigmented skin area.
Micro-pigmentation (tattooing)
This method includes inserting pigment into the skin with a specialized surgical tool. It works best for the lip area, particularly in people with dark skin. But it is challenging for the doctor to match the skin color of the adjacent area perfectly.
Autologous melanocyte transplant
In this procedure, the doctor utilizes a sample of your regular skin and places it in a laboratory dish containing a particular cell-culture solution to grow melanocytes. When the melanocytes in the culture media double, the doctor transplants them to your depigmented skin.
Additional treatments:
Sunscreens
Cosmetic makeup
Counseling
Causes of Vitiligo
The exact reason for Vitiligo is not known.
There is substantial evidence that vitiligo patients acquire a group of three genes. These genes make them susceptible to depigmentation.
The most universally accepted theory is that the depigmentation happens as vitiligo is an autoimmune disease in which an individual's immune system reacts against the body's organs or tissues.
Another opinion is that melanocytes damage themselves.
Eventually, some patients have reported that a single incident such as sunburn or emotional distress triggered vitiligo.
You can visit us at Rejoice Clinic or feel free to contact us. You can plan an appointment with our expert dermatologist and avail of the right treatment for you.
Frequently asked questions
Q) Who is liable to get vitiligo?
About 2% of the population have a risk for Vitiligo. In most instances, it occurs at an early age. The disease will mostly show up before turning 40 years.
Q) Is vitiligo serious?
Vitiligo is not a severe disease. It is one of the most harmless conditions that our body can generate.
Q)Is vitiligo contagious?
Vitiligo is not a contagious condition as germs, bacteria, or viruses do not produce it. So, touching discolored skin does not spread it from one person to another.